In Okinawa, we can easily access to nice beach and clear ocean, but for kids swimming pool is much safer and easier. One option is swimming pools in hotels. The other option is pool running by Kadena town, called 'Kadena Water Garden.'
Kadena Water Garden has one big pool and one small pool. Both pools are not deep, probably 50 cm depth. Big pool is enjoyable for around 10 year old kids and small one is for 4-5 year old kids.
Two water sliders in bigger pool and one small slider in small pool.
Price is 100 JPN Yen for one children. Yes, ONE HUNDRED JPN Yen. Super Cheap. Free for Adult. This pool is for kids, not for adult. So Adult (Parents) can't swim and price is free. You can get wet to support kid swimming. Little bit weird but we have to accept this rule.
The other rule is swimming cap is required (for kids). No lifeguard, parents have to watch your kids.
!! You have to watch out the small island in the small pool. It is very slippery on the small island. I saw at least 3 kids slipped on this island and hit head.
Address:
嘉手納町字兼久85番地25(Kadena town aza kaneku 85-25)
Japanese Web site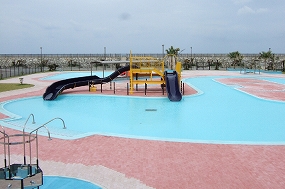 Hour:
AM 10:00-12:00
PM 13:00-18:00
Every hour 10 mins off (get out from water between 10:50 - 11:00 etc)
View Larger Map